CCTV Installation in Abu Dhabi
Welcome to DAB Contractors, your trusted partner for all your security needs! Are you looking for a reliable and professional CCTV installation service in Abu Dhabi that can provide you with peace of mind and security? Look no further than us!
DAB Contractors is the leading installer and service provider of digital CCTV cameras and recording surveillance systems in Abu Dhabi. We install, maintain, and manage industrial, commercial, and residential CCTV systems throughout Abu Dhabi and Dubai. Our authorized professionals have installed CCTV in private homes, commercial spaces, and government offices.
We understand that security is a top priority for both residential and commercial clients in Abu Dhabi. That's why we offer top-quality CCTV installation services that are tailored to meet your specific needs and requirements. Our team of skilled technicians uses the latest technology and equipment to ensure that your CCTV system is installed to the highest standard, giving you the security and peace of mind that you need.
Ensure that your location has high-quality surveillance cameras that record HD-quality video and are designed to blend in with the existing decor of your commercial space. We provide high-quality security surveillance, alarm, and access control installations and services.
From minor installations to the most complex integrations, you can be confident that you will receive the best equipment and the individual attention you deserve.
Being the leading IT solutions company in Abu Dhabi, DAB Contracting also strives to create long-term relations with all the local and international businesses in Abu Dhabi. DAB Contractors' main roots for success and future opportunities are expertise and high capabilities.
CCTV Installation with DAB Contracting
Unlike other major nations, Abu Dhabi is a safe place to live. So it is a source of pride for us that the most happening city, Abu Dhabi, and the smallest emirates, Ajman and Sharjah, are both devoid of wrongdoing.
But, as the best CCTV installation in Abu Dhabi, we also believe that prevention is better than cure.
Security CCTV cameras and entryway access control frameworks are intended to improve the well-being of your living space, including your home, neighborhood, work environment, workplace, and corporate organizations.
Furthermore, it significantly aids law-enforcement organizations such as police divisions in maintaining regulation and control. Furthermore, high-quality CCTV cameras aid in the screening of internal and external partners such as representatives, sellers, and visitors for corporate organizations.
Our CCTV camera installers and fitters are prepared, qualified, experienced, and authorized to complete the job carefully and expertly. It is critical to understand that CCTV cameras are electronic and computerized devices powered by cutting-edge technology.
Therefore, for establishment work, especially with premium and specialty CCTV cameras, they should be handled carefully and expertly. This is why corporate organizations and property owners in the UAE who want CCTV cameras installed at their premises should contact talented expert CCTV solutions companies in Abu Dhabi like Master Computers. We can handle everything from installation to maintenance.
We assist you not only with CCTV cameras, but also with data security. Yes, Master Computers is well-known as one of the most dependable structured cabling companies.
To be more specific, we are a one-stop shop for all of your IT needs to help your business succeed. In addition, we offer the best software development services and a variety of other services.
CCTV Installation, Integration, Maintenance, and Upgrade in Abu Dhabi
Our core expertise encompasses the planning, design, installation, integration, maintenance, and upgrade of CCTVs. Our specialists will assist you in devising an intelligent, effective, comprehensive, and seamless surveillance system to produce the results you want in the most efficient, practical, and sustainable way.
With DAB Contractors, installing the CCTV camera system in Abu Dhabi is professional, practical & cost-effective. DAB Contractors offers an extensive array of security products carefully selected to meet even the most demanding needs of a large organization.
CCTV IP cameras

HDCVI cameras

Analog cameras

Network video recorders

Digital video recorders from globally trusted brands
Advantages of CCTV Security Systems
Preventing shoplifting and theft in stores and getting proof to help an arraignment

Looking out for a till highlight spot negligence

Helping a solitary businessperson to see all regions of the shop

CCTV Access control to the grounds of or access to a structure or part of a structure

Observing action in a vehicle leave

Keeping up well-being and security practices and methods

Watching stock in a distribution center

Observing stockroom conveyances and dispatches

Giving security and well-being to staff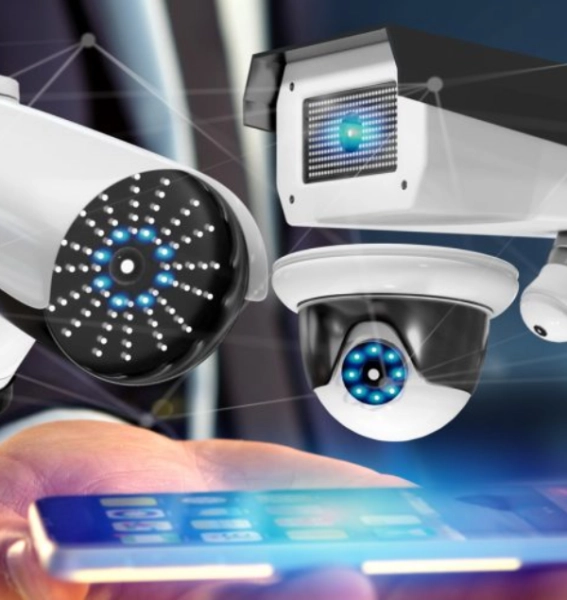 Deterring individuals from submitting offenses both inside and outside the home

Social occasion proof of a crime, should wrongdoing happen

Giving a picture of a guest at the entryway before it is replied

Looking out for vehicles left to the front or side of the home

Empowering remote perception of the family home (all around) when the tenants are busy working or away on vacation

Verifying whether conveyances were made

Remotely verifying whether utilized people, for example, cleaners and developers turned up for work and left on the proper occasions.

Remotely watch youngsters or relatives when the householder is out for the night.

Checking the grounds of the home from the solace of the easy chair

Keeping an eye on youngsters' rooms after sleep time
On-request recording is one of the most valuable highlights in modern CCTV security camera frameworks. It is particularly valuable in rarely got to regions, where an ongoing chronicle for the day will furnish you with several hours of film of an entryway and possibly thirty seconds of individuals going back and forth.
Facial acknowledgment is a highly incredible CCTV security camera highlight utilized in numerous settings where security or client assistance is of most extreme significance.
It tends to be utilized, for instance, to spot and track VIP clients in lodgings or gambling clubs or, similarly, to perceive individuals who are no longer permitted to be on business premises or suspected crooks.
Customarily, CCTV cameras have utilized wire associations because remote conventions were regarded as either excessively inconsistent or excessively delayed for constant video checking. This is not true anymore, and numerous CCTV cameras offer remote availability.
Why Choose DAB Contracting?
They has been helping organizations throughout the UAE to manage their IT with our unique approach to technology management and consultancy the World to manage their IT with our unaugment and consultancy solutions.
Are you searching for a great IT solutions company in the UAE? If yes, DAB Contracting is the best name for effective IT solutions. Whether you are new to this IT sector or possess years of experience, top-quality IT support Abu Dhabi solutions are extremely important for running any profitable business organization.
Other Services provided by DAB Contracting