Panasonic is a well-known brand in the technology industry. Up to this point, the company has developed several excellent product lines, and many more are in the works now. Panasonic has introduced intelligent phone solutions to assist businesses in increasing their success and productivity. Users can also save money while increasing their revenue.
The company's products offer various intriguing functionalities for the consumers who purchase them. The Panasonic PBX in UAE has some stunning features, such as conferencing solutions, handsets, and voicemail capabilities.
These communication solutions have been developed to improve the capabilities of various businesses to hold conferences. The most advanced models of Panasonic mobility products are now available in UAE, Abu Dhabi, Sharjah, Ajman, and the rest of the United Arab Emirates (UAE).
The company provides a wide range of telephone systems, from advanced IP-based servers to network communication devices. Panasonic's comprehensive PBX product line terminal and configurable voicemail systems make it an appealing telephone solution.
DAB Contractors specializes in the PABX System. Depending on your requirements, we can provide a complete PABX system. From installation to maintenance of the PABX System, our expert technicians guarantee prompt and efficient interventions.
Why Panasonic PABX Systems?
PABX is an abbreviation for "private Automatic branch exchange". A PABX system is an essential component of any successful business phone network. Multiple-line systems typically handle incoming and outgoing phone calls for small businesses. The management of those lines is typically handled by the company that provides the small business's phone service.
Pabx panasonic systems in UAE in this scenario, four lines enter the business and are visible on a multi-line phone.
Business networks that use Panasonic PABX systems UAE have several lines or a T-1 digital connection coming into it so that it can provide service and branches open connections throughout the enterprise. It also allows internal calling from extension to extension.
Enhance your company with a solution tailored to meet your business's ever-evolving requirements. This solution provides wireless mobility, business productivity applications, network solutions, and a common infrastructure that helps connect your users, regardless of location.
Customers who are upgrading to converged solutions must prioritize a migration path that is simple, uncomplicated, and trouble-free.
Contact us for Panasonic PABX systems in UAE. The existing KX-TDA Panasonic PABX systems can be easily upgraded to the KX-TDE Panasonic PABX systems by simply replacing the main processor card (IPCMPR). This allows users to take advantage of all the new features and benefit from true convergence.
How to Go About Panasonic PABX System Installation?
When installing a PABX phone system, it would be best to meet with the service provider. Don't hesitate to contact us if you require additional information. DAB Contractors will provide you with a satisfactory service, and you will want to use them again. So be sure to get in touch with us as soon as possible.
After everything is delivered, you can count on our support to solve any problem. We give warranty of our work. 
PABX Telephone System Incentives and Benefits
It would be best if you had a solid understanding of why your company must have a Panasonic PABX system in the UAE in the first place. We will quickly go over the PABX system's essential advantages so we can respond to your questions.
The PABX system encourages the sharing of telecom resources. Every office typically has some public switched telephone network lines that must be shared amongst the office's staff members.

The PABX system facilitates the sharing of these limited PSTN lines. The PABX enables the PSTN on one end and the extension lines on the other. As a result, the telephone network is accessible to various rooms and users.

Call transfer should be a simple process to save time. The PABX systems have also made this job more accessible, as calls can be easily transferred to the appropriate person.

The interoffice telephone connection provided by a PABX phone system helps reduce business communication costs.

Quick responses are an essential component of running a successful business. This goal would be easier to achieve with the advent of the PABX system.

With PABX facilitating effective communication, it is now simple to correct errors, make arrangements, and process orders.
Best Panasonic PABX system in the market
The company provides a comprehensive selection of telephone systems, ranging from sophisticated IP-based servers to network communication devices. It is an excellent choice for a telephone solution due to the Panasonic inclusive PBX product range terminal and the configurable voicemail systems.
Panasonic TDE / TVM PABX / TDA / PBX System
People in UAE strongly prefer these kinds of telephony systems, which is not surprising given that the Panasonic PBX System has presented its users worldwide with many excellent new functionalities in recent years. Investing in a Panasonic PBX system is a prudent choice if your goal is to increase the level of satisfaction experienced by both customers and users.
The Panasonic TDA or TDE can provide intelligent communication solutions enabled by IP and is suitable for large, small, and medium-sized businesses.
The manufacturers of these systems understand the current communication requirements, which is why they have included various useful conferencing features that may be required by various companies operating in UAE, UAE, or anywhere in the UAE.
A wide range of productivity applications can be used in conjunction with the telephony system, making it very adaptable to most business types.
Suppose you want to install the ideal telephony system for your company to ensure that all your communications are error-free. In that case, selecting an appropriate system from the extensive Panasonic range can be profitable for both the customer and the company.
The well-liked Panasonic NS1000 UAE PBX System provides users with a comprehensive collection of helpful communication and network telephony features, in addition to a variety of cutting-edge applications, a wide range of wireless and fixed terminals, softphones, and headsets to choose from.
A common misconception is that the system has fixed capabilities that cannot be improved when needed. This is different when you use the Panasonic PBX UAE system.
The system capability of this product can be improved and expanded by purchasing additional licenses and applications for software. This is how the product can be modified to meet the requirements of single and multi-site organizations.
The NS1000 telephony system is developed to provide these communication solutions, software components, and hardware that integrates in a linked manner. Because of these features, users can get tailored solutions to meet their specific conferencing needs at different times.
The KXNS1000 NeXT-Generation is a fully network-compatible platform that can be used in separate locations and to connect multiple company sites. It also has a plethora of expansion possibilities.
If you want to manage individual and network systems on a single IP network, the KX-NS1000 NeXTGen is a good choice.
The KX-TES824 is a low-cost Advanced Hybrid PBX system that offers numerous advantages to its users. The system is simply fantastic for both business and personal communication needs.
It supports 8 extensions and three exteriors (CO) lines. This ensures that users can use the system without issue right away. This telephony's capacity can also be increased using optional cards. You can, for example, expand your conferencing requirements to 24 extensions and eight outside (CO) lines.
We encounter many cost-conscious and sophisticated consumers in the modern era. It cannot be easy to convince users of the importance of modern telecommunication systems in business settings.
Our products describe how they can help the company achieve its objectives. The Panasonic KX-TES824 is capable of connecting to various communication devices, including credit card verifiers, answering machines, computer modems, fax machines, cordless phones, and other similar devices on the market.
Because of its high level of sophistication, the KX-TES824 is ideal for use in a home office or small business environment.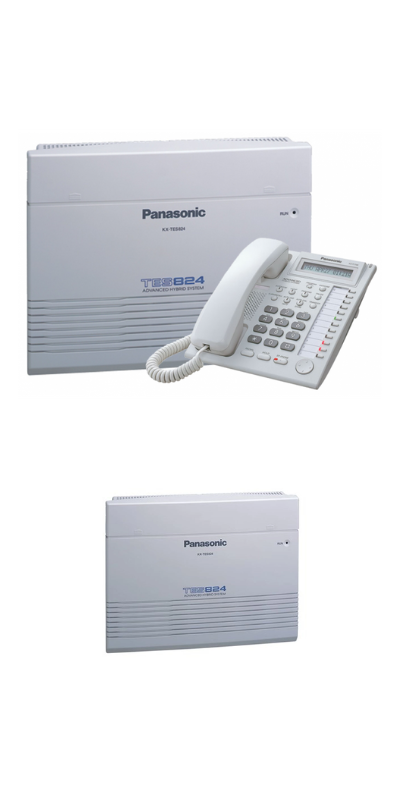 The Panasonic NS500 UAE is one of the best-unified communication systems for hassle-free conferencing among coworkers. It provides a wide range of features to its users.
This Panasonic PBX system is an intelligent hybrid that provides customers with a cost-effective communication system for businesses and companies with up to 250 employees. The device's adaptability can also accommodate the company's needs in terms of configuration and expansion.
The advanced KX-NS500 has many innovative features, starting with six analog trunks and eighteen extensions and expanding to 288 extensions and expansion units.
You can also use the built-in applications to make your business communication more flexible and productive. A greater degree of flexibility makes it possible to implement additional solutions, such as a call center solution, a voice mail system, and a mobile solution, which help businesses achieve higher levels of work efficiency and customer satisfaction.
Even if you intend to migrate to another IP communication system, the KX-NS500 is an excellent choice. Because the KX-NS500 supports office features throughout the entire business structure, you can control all office functions.
The device includes desk phones, mobile telephony, and voicemail systems that can be customized. The telephone system can be accessed from anywhere in the United Arab Emirates, including UAE, UAE, and several other states.