Cabling For Camera In Dubai
Cabling is the central component of every camera installation. Through the cables, data is sent from one end to the other. Depending on the number of ports necessary in the building, more cabling may be required depending on where the internet service provider is located. So, it is a must to get a service that will provide you with the best camera system cabling, regardless of whether you are a business or a homeowner.
Camera Cabling Unparalleled Services
Regardless of the size of your business or residence, DAB contractings providing superior services. Copper and fiber cable cables are needed for communication across the local area network and are provided by our company.
Similarly, our experienced and competent cabling specialists have extensive knowledge and expertise in large-scale, commercial, and practical installations and building and company relocation.
We provide our clients with easy access to commercial and industrial transportation networks. We offer a range of services and goods that can be delivered to any area in the United Arab Emirates.
Reliable Connectivity Architecture
We offer a stable connection infrastructure for your business or home that facilitates the movement of data and information.
Team DAB contractors guarantee that data cabling positively impacts data quality and project management.
Voice Cabling and Data Cabling
We integrate the essential components into our service. These are the data cabling and voice cabling components for your cameras. You can always rely on us as the premier cabling service in the United Arab Emirates.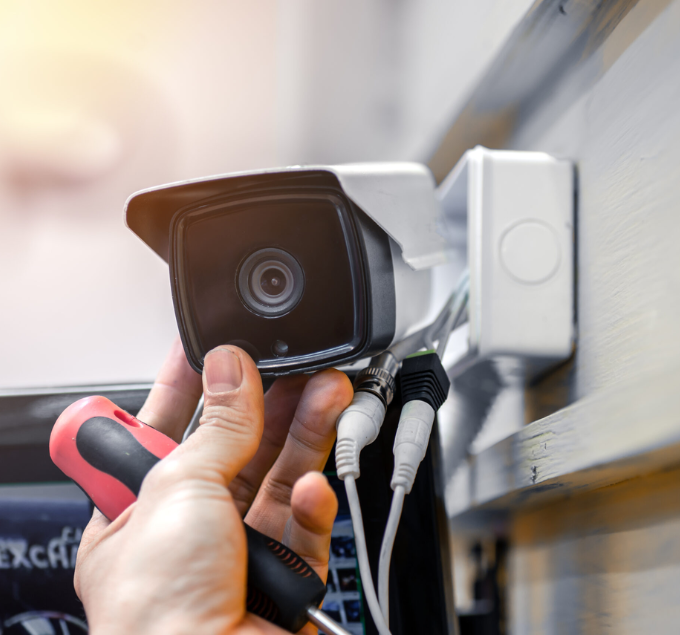 Our Camera Cable Installation Services
We are fully competent in providing data, video, and voice cabling services that will ensure that the movement of data and information and communication through the cable systems is always clear and uninterrupted. 
Since we are a licensed business in the United Arab Emirates, we comply with the law in every aspect of our services.
DAB Contractors: Cabling for Camera Systems
We are committed to achieving 100% customer satisfaction. That is why we offer superior camera cabling services in the UAE, making us the top cable service in numerous cities around this area.
Our technical engineers shine in cable system design and implementation when it comes to new construction and office moves.
How To Choose The Proper Cable For Your CCTV System?
The cable for a CCTV system should be influenced by its installation. Video signal and quality are of the highest significance in a professional setting. Similarly, if you intend to build a CCTV system in your apartment complex, you must ensure that the proper cable is selected and put in every corner for optimal results.

Consider that for CCTV systems, the copper conductor of your cable type should consist of 95% pure copper. For improved performance, the DAB Contractors' coaxial cables include an in-house electrolytic grade with 99.97% pure copper. This coaxial cable's high quality makes it ideal for CCTV cameras.

Ensure you grasp the specs of each cable type before proceeding. After narrowing down your needs, pick a more suitable option. Under coaxial cables, The DAB Contractors Wires & Cables' RG-59 and RG-6 offer distortion-free video transmission.

While selecting the proper line will need some investigation, after a decision has been made, consider other factors such as location, power supply, connections, etc.

Choose something more cost-effective and straightforward to install. The DAB Contractor's lines and cables are equipped with various energy-efficient technology, preventing a high monthly power cost.
We have branch offices around the United Arab Emirates (UAE), including Abu Dubai, UmulQuan, Sharjah, Ajman, and Dubai, so you can rest assured that our personnel are never more than a short drive away, regardless of where you are.
As the most reliable home and business CCTV systems installation provider in the United Arab Emirates, we are constantly accessible 24/7 to our customers.
Other Services provided by DAB Contractings