Security System Repair Services
Keeping commercial buildings, private property, and offices safe is more important than ever. A wide selection of options is available for use in CCTV surveillance systems. Even though digital systems have fewer moving parts than classic VCR systems, maintaining your CCTV security systems is necessary. This is true even though traditional VCR systems had more moving components. In the UAE, our organization provides complimentary on-site consultations for CCTV maintenance work.
At DAB Contractors, we have a talented team dedicated to providing effective CCTV maintenance services to our respected customers.
You can contact us, and the response time will vary depending on the nature of your company. However, we will return as soon as possible.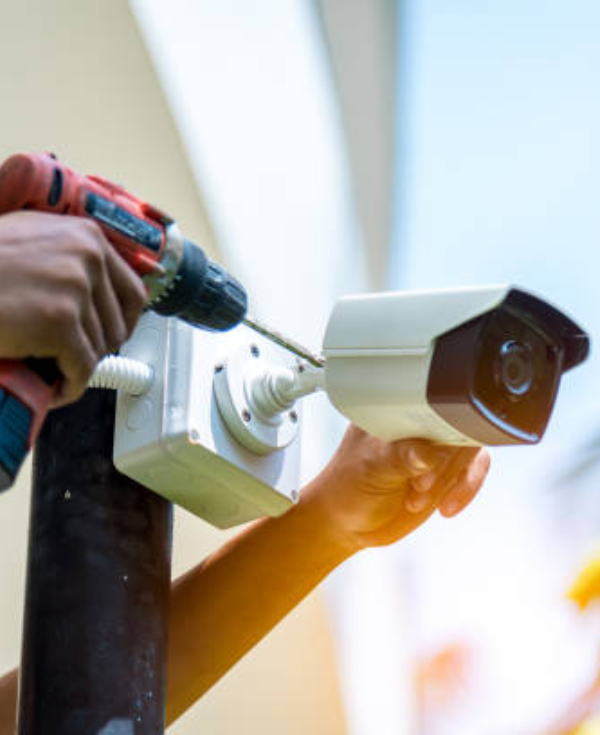 Our Security System Installation Services in UAE
Listed below are some of the fantastic services we offer related to security systems:
You are Carrying out an exhaustive inspection of your property to make appropriate recommendations regarding your security system.

Components of the security system are being installed.

We are performing routine maintenance and making necessary upgrades to security devices.

A system already in place is modified to comply with the most current industry standards.

Performing repairs if there is a problem.
Why Is It Important for Us to Have a Security System?
As one of the leading Security Systems Companies in UAE, we provide the integration of numerous security system components for complete safety.
The following are some of the functions that a security system performs:
Utilize the CCTV cameras to keep a watchful check on everything happening within the home.

Maintain a record of everyone entering or coming out of the building.

In an emergency, use an alarm system to let people know what's happening.

A fire alarm system's primary functions are to detect smoke and fire and to assist people in evacuating the building at the appropriate time.

Maintain a list of everyone who is permitted to enter the premises of your building.

Maintain a log of everyone who enters and exits the property, including their check-in and check-out times.
Being the leading IT solutions company in UAE, DAB Contractors also strives to create long-term relations with all the local and international businesses in Abu Dhabi. DAB Contractors' main roots for success and future opportunities are expertise and high capabilities.
Our Areas of Intervention
Our company in Abu-Dhabi, umm al Quwain, Sharjah, Ajman, and Dubai allow us to guarantee you proximity and responsiveness of intervention in UAE.
Why Choose DAB Contractors for Security System Installation Services in UAE?
DAB Contractors are widely regarded as one of the most reliable fire and safety businesses in Dubai, United Arab Emirates. DAB Contractors has demonstrated why they are one of the UAE's most promising security systems providers. We have been providing our esteemed clients with the highest quality security system designs, installations, repairs, and quality assurance testing that our highly trained team of industry professionals is capable of.
Our customers' safety is our top concern; therefore, we put our security systems through extensive testing to ensure that they can detect fire, smoke, and toxic chemicals in the timeliest and accurate manner possible. Our innovative approach, dependable performance, and high competence have propelled us to the top of the engineering industry, providing exceptional services and comprehensive solutions.
Components of A Security System
The existence of an excellent security system on your property is critical in keeping you safe. A security system comprises individual components that collaborate to protect against any form of criminal activity or emergency circumstance.
We provide services for the following aspects of security systems located everywhere in the United Arab Emirates:
A fire alarm system is installed in a structure to limit the risk of fire or smoke causing health concerns and property damage.
We provide one of the top Security Alarm & door access Systems in UAE, and it comes with several benefits, including the following:
The fire alarm and smoke detection security systems can effectively detect smoke or the production of toxic gasses, allowing for the timely evacuation of the building's occupants.

PAVA systems are included in the security alarm system so that individuals can be alerted to an emergency scenario and directed to the appropriate exits.

The alarm system monitors the environs of the building around the clock and issues a warning when it deems necessary.

The alarm system communicates with the security access systems to provide notifications if an unauthorized individual enters the premises.
Installing a CCTV camera system is highly advantageous for maintaining a watchful eye on all of the activities on your property. Our Security Camera Installation services in UAE are unrivaled. The cameras we install for you act as a third eye, ensuring that you and your family are always protected.
The following are some of the benefits that come with installing CCTV cameras:
Keep an eye on the activities of your employees and the inhabitants of the building.

Gather evidence just in case there is any questionable behavior.

Maintain a record of everything that everyone does.

Because it requires little maintenance or upgrades, this security system is an efficient and economical way to protect your home.