We are the best home and building network installer in the UAE, mainly in Dubai, Sharjah and Ajman. DAB Contracting offers comprehensive service and transparent, state-of-the-art advice for a stable and secure network.
Network installations quickly and professionally.
Building a reliable network infrastructure at home and in your own company is the be-all and end-all for effective surfing and working. It doesn't matter whether you want to exchange data between several computers or integrate a printer into the network: Our experts are at your side with advice and assistance and will help you both with the planning and the installation of your wired or wireless network.
Planning and setting up infrastructure
In many cases, of course, a WLAN router helps – our DAB Contracting experts will be happy to advise you. But especially in larger properties, a simple WLAN is not enough: too slow, unreliable, and sometimes too insecure. When installing a network in a company or family home, precise planning is necessary, especially if large amounts of data are regularly transferred back and forth between several computers. The DAB Contracting network specialists are there for you in such cases. We advise you individually on your network planning and network your PCs, Macs and mobile devices. We also integrate other devices, such as printers and network hard drives, into your LAN or WLAN if required.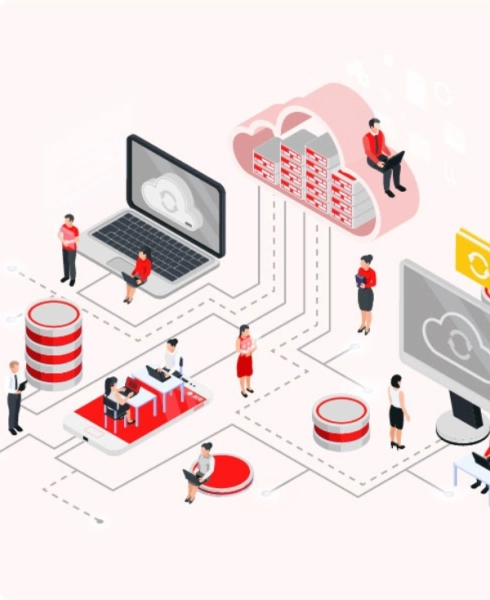 We help with cables and accessories
Of course, we will also help you to set up the PC. If additional hardware is necessary, we will help you to select the right router, cable and network distributor. You can  buy these from your DAB Contracting partner.
Why you should hire us for Networking in Dubai.
Together with you, we determine the best places for network sockets, network cabinets and routers in your office or house and take care of the entire network cabling. We are also happy to advise you on telephony, fibre optic connections or integrated door communication.
Of course, we prepare detailed documentation for your network in the form of a network protocol. In this way, sources of error can be quickly found and ruled out. We also offer this service for existing networks. 
Our services at a glance:
Planning and installation of networks.

Setting up W-LAN, D-LAN (network over the power grid), Ethernet

Setup of TV connections

Installation and maintenance of switch, patch panel and network cabinet 

Error analysis and correction

Advice on and installation of fibre optic lines

Installation of new network technology and maintenance of existing installations

Documentation and network protocols for new and existing networks 
Contact us anytime for a no-obligation quote, an individual offer or an analysis of your needs.